There are so many ways to use hardscape elements to enhance your property:
Stone retaining walls create planting areas or convert a slope to flat yard space.

Concrete patios are the classic low-maintenance and versatile patio option.

Brick patios offer a more upscale and natural look than concrete.

Flagstone patios are the low-cost option for natural stone outdoor flooring.

Tile patios are a great way to dress up a concrete patio slab.

Stone walkways are ideal for garden paths.

Gravel paths have a "softer" alternative to brick, concrete, or solid stone.

Stone landscape steps have heavy stone slabs that make beautiful outdoor steps.

Metal fences include coated steel, which is the modern standard, but iron is still an option.

Wooden fences use the most versatile fence (and hardscaping) material—wood.

Wooden decks are hardscaping, too, just like patios.

Wooden arbors or gazebos enhance a landscape while providing shade.

Pergolas are arbor-like structures attached to the house or other building.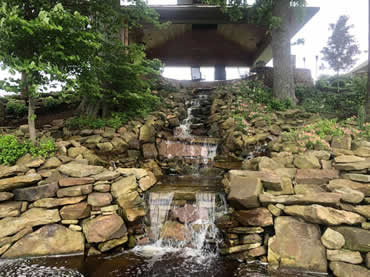 Hiring Hobgood Landscaping is having peace of mind!
Call us if you're needing assistance with your existing sprinkler system or interested in having one installed at your home or business.
We can winterize your system, give us a call today for your FREE estimate on installation, Repair or Winterization.
HobGood has been a leading landscaping contractor since 2009, we are located next to Fed Ex on Ragu Drive.
Cell: (270)-316-9648.
Located in 2238 Ragu Drive, Owensboro Ky